Are You Ready To Transition Your Farm?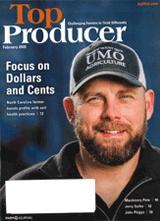 In the February 2020 Issue of Top Producer Magazine, as a recap to the 2020 Top Producer Summit, there is an article entitled, "Are You Ready To Transition Your Farm" by Ronda Brooks.  In that article Rena Striegel, President of Transition Point Business Advisors, is featured in relation to this timely topic.
The article says:
Sometimes the first step in a journey is the hardest. But start you must, if your goal is to transition your farm to future leaders.
"This isn't one event or just one conversation," says Rena Striegel, President of Transition Point Business Advisors. "Even once you make all the major decisions and get documents in place, they will need to be reviewed and updated from time-to-time because you're going to have changes." Striegel provides these considerations as you start to plan:
Set expectations for what you want to achieve.

 

The process starts with knowing what you want. Spend time becoming clear on what you want the plan to achieve and what you want to do post-implementation. "I don't think you're ever not a farmer," Striegel says. "Sometimes it's simply a matter of getting into a mindset that you will transition to a different role. It just takes a little bit of time to figure out where you want to provide value next."
Know that the process is a journey.

 

The road to successful succession takes time to travel. Plan for multiple check-ins, revisions and even overhauls.
Give yourself a long timeline for development and implementation.

 

"You need adequate time to help the heirs and get people grouped up into the roles and responsibilities that they need to have to make the transition successful and less stressful," Striegel says.
Understand imperfect planning and execution are far better than no plan.

 

Give yourself credit for starting the journey that too many put off. Ultimately, your succession plan will be one of the most valuable undertakings you and your family achieve.
For more information on this this story and other articles in this issue, LOOK HERE.
Transition Point Business Advisors
4125 Westown Parkway, Suite 104 · West Des Moines, IA 50266 · Phone: (515) 225-4486
© 2023 Transition Point Business Advisors
All registered and common law trademarks are owned by Transition Point Business Advisors or their respective owners.
Disclaimer