Make strategic planning and streamlined communication a habit.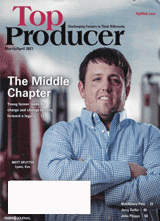 As a CEO, you must spend your time on high-value responsibilities, but it is easy to get bogged down by jobs that are trivial or more fun.
By starting the Entrepreneurial Operating System (EOS), Kristjan Hebert with Heber Grain Ventures in Moosomin, Saskatchewan, can now focus on future opportunities and building a best-in-class team. "EOS helps us be on the same page when it comes to prioritization and communication," Hebert says. "It really amplifies how fast your business can move."
GOALS AND SCORECARDS
EOS combines strategic planning with proven weekly habits, explains Rena Striegel, President of Transition Point Business Advisors. "Everyone can use good habits: how to run operational meetings, manage your measurables, and constantly evaluate your business, say Striegel, an EOS implementer.
The EOS process includes structure weekly, quarterly and annual meetings to discuss goals, scorecards, issues and assignments. "The process helps you to focus on 'What should we do?' It creates transparency and accountability," Striegel says.
Hebert says his team benefited from the accountability chart piece. While it looks similar to an organizational chart, he says an accountability chart drives better decisions. "It shows what you talk to others about prior to making a decision versus when you let others know you've made a decision," he says.
TEST THE WATER
To gain the most from EOS, you must focus on the process. For many, that means hiring an EOS implementer, Striegel says. "An implementor is a financial investment because you are buying the system, not just paying a person," she says. "Every organization that I have worked with has more than recouped that investment."
If you are interested in the system, she suggests reading the EOS book "Traction: Get a Grip on Your Business," by Gino Wickman. Take notes and see how far you get. If you become stuck, bring in someone to help.
By Sara Schafer
This article was published in the March/April 2021 edition of Top Producer Magazine.